Return leg in Hebron gives victory to Al Ahli
After the nil-nil draw on Thursday 6 August in Gaza between West Bank club Al Ahli and Gazan club Shejaia, the return leg was played near Hebron on Friday 14 August.  Al Ahli triumphed by 2 – 1 and will represent Palestine in international club competitions this season.
There was a delay of four hours at the crossing from Gaza on Wednesday 12 August for security checks.  Rajoub was reported to have previously insisted that the PFA would not agree to such checks for players, and the border crossing was delayed by almost a week.  FIFA had undertaken to help resolve the situation.
The result was reported in http://sports.yahoo.com/news/al-ahli-win-first-west-bank-gaza-showdown-200447190–sow.html as follows:
Al Ahli win first West Bank – Gaza showdown in 15 years. 
Hebron (Palestinian Territories) (AFP) – The West Bank's Al-Ahli emerged triumphant Friday in a dramatic finish to the first footballing showdown in 15 years with a team from Israeli-blockaded Gaza to be proclaimed Palestinian champions.
Before a vociferous and flag-waving crowd at Al-Ahli's packed stadium in the town of Hebron, a goal from a direct free kick in the second minute of stoppage time broke a deadlock between the champions of their respective territories.
In a first leg in the Gaza Strip, Shejaiya and Al-Ahli played out a goalless draw on August 6 and the two sides were locked in a 1-1 draw in Hebron before the red-and-black striped West Bank club finally triumphed 2-1.
Shejaiya were sportingly cheered at the start and finish of the encounter even though the thousands of Hebron spectators drowned out the modest 35-member delegation of players and staff that Israel allowed to cross its territory and travel to the West Bank for the historic match.
Al-Ahli will now represent Palestine, a member of football's world governing body FIFA since 1998, in international competitions.
Israel strictly controls the Gaza border, and the second leg, originally scheduled for last Sunday, had been postponed over a dispute involving security checks on some of the Shejaiya players.
Gaza, ruled by the Islamist movement Hamas, is separated from the West Bank, which is run by its bitter rival, the Palestinian Authority of president Mahmud Abbas, by 60 kilometres (36 miles) of Israeli territory as well as politics.
West Bank and Gaza Strip teams play in separate leagues, in which Al-Ahli and Shejaiya are the current champions.
The showdown was seen as a symbolic victory over both the bitter political divisions within Palestinian ranks and Israel's blockade.
A devastating Gaza war last summer between Israel and Hamas killed more than 2,200 Palestinians and 73 people on the Israeli side, while the Islamists evicted Abbas's Fatah party in a week of deadly street clashes in 2007.
Inside World Football had earlier reported the border crossing problems: http://www.insideworldfootball.com/world-football/asia/17646-palestinian-cup-final-back-on-after-gaza-players-successfully-cross-into-west-bank as follows:
Palestinian Cup Final back on after Gaza players successfully cross into West Bank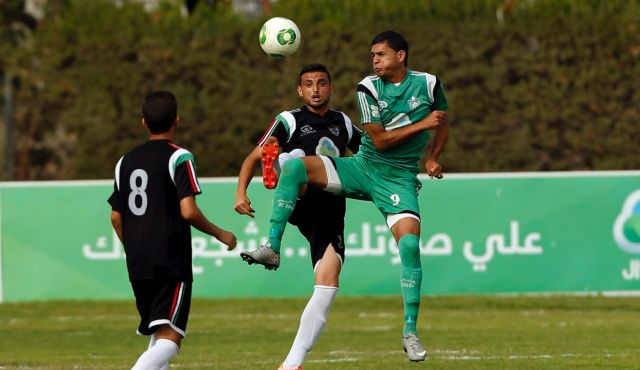 By Mark Baber
August 13 – The second leg of the historic cup final between Al-Ahly, the top team in the West Bank and Gaza's champion Shejaia is back on after the Gazan team on Wednesday successfully crossed the Eretz border crossing into the West Bank.
A team from Gaza had not made the crossing into the occupied West Bank since 2007 and the second leg of Palestine's Cup Final, originally scheduled for Sunday, had been postponed indefinitely after Israel denied entry permits to seven of the Gaza party, including four players, whom it demanded be subjected to questioning.
Restrictions on Palestinian football became a major issue at FIFA's annual congress in May, with Palestine eventually withdrawing a demand to expel Israel over the issue in return for a promise by Israel to loosen the restrictions and for the formation of a FIFA committee to monitor the freedom of movement of Palestinian players.
The postponement of the final had been announced by the Palestinian Football Association, creating major worries over whether the understanding reached between Israel and Palestine, under FIFA auspices, would hold.
In the event, the players were delayed at the border for three hours as four of their number were questioned by Israeli authorities, but the whole party then proceeded on to Hebron where they will now prepare for the rescheduled final second leg to be held on Friday.
Whilst the winning team is scheduled to play in the next Asian Football Confederation (AFC) Cup, the biggest winner is Palestinian football which, with the help of FIFA, appears to have won a measure of freedom of movement for Palestinian footballers denied the majority of the Palestinian population
Earlier the return leg seemed under threat.  James Dorsey commented at : http://mideastsoccer.blogspot.co.uk/2015/08/israel-and-palestine-play-high-stakes.html, and highlighted how Netanyahu was likely to be seen as backtracking on his promises.  He also asserted that "a majority of FIFA members agree that Israel puts unreasonable obstacles in the path of Palestinian soccer".