Palestinian manager for Israeli team Kiryat Shmona
Palestinian citizen of Israel Salah Hasarma has been appointed as manager of Kiryat Shmona , a first division team.  He is clear about the problem of racism in Israeli football: "It is unacceptable and we need to deal with it seriously. The police should have people in the stands and arrest anybody who shouts racist remarks, and then it will finish. When we play abroad we see people against us, so how come it happens among us in the country? We need to uproot it."  He points out that for  Palestinian players: "The starting point for an Arab player is harder. In most cases he comes from a place without infrastructure and enjoys them much later. An Arab player had to work much harder than his Jewish friend just to make an impression."
Hasmara's appointment is hardly a sign of football being "an oasis, a haven of inclusiveness and meritocracy" as Shaul Adar writes in the Guardian, but it is a lead which others can follow.  The full text of the Guardian article is as follows:
When Slovan Liberec host Hapoel Ironi Kiryat Shmona on Thursday in the third qualifying round of the Europa League, a small slice of history will be made. For the first time a non-Arab Israeli football club will be led by an Arab manager.  Salah Hasarma will take charge of Kiryat Shmona, the Israeli league runners-up, and his remarkable story as a groundbreaking Arab footballer in Israel will reach another high point.
When Hasarma, 41, ended his long playing career two years ago he was asked about his future plans. "I took a coaching course and I hope I'll be the first Arab manager to get a real chance to coach a Jewish Israeli team," he said, "but I'm realistic and there is more chance I will turn to business."
As it turns out, his prediction was pessimistic. He was appointed immediately as the youth coach at Kiryat Shmona and, after two successful seasons, has been promoted to the first team.
During a career as a centre-back spanning 25 years, Hasarma featured in almost all the landmark moments of Arab-Israeli football. He was in the Hapoel Tayibe team that became the first Arab side to play in the Israeli top division, in 1996. They received a hostile reception at many grounds and were relegated after one season but Hasarma moved to Bnei Sakhnin and was part of that club's rise to the top flight. His next move was more controversial, when Bnei Yehuda, a small club from a rough suburb of Tel Aviv, signed him despite vocal opposition from their fans. Hasarma became the first Arab to play for them.
"Before the first training session at Bnei Yehuda I received threats and was told not to go to the ground because I was going to get hurt or killed," he said in an interview with the Israeli newspaper Maariv.
"The owner and Eli Ohana, the manager, told me not to be afraid and built up my confidence. People said that I should not join the team and that an Arab would not set foot at Bnei Yehuda. My parents were worried and my mother said that maybe I shouldn't go there but I told her that it would be all right. At the first training session there were few shouts against me but after two games the fans gave me flowers and apologised. They said that they do not judge a person by his race. They saw my love and commitment to the team and after a month they started chanting my name. From then on I felt at home and even now I'm welcomed there and have a warm spot for them."
At his next stop he was part of the most significant night of Arab-Israeli football when Bnei Sakhnin won the Israeli Cup in 2004, although he was on the losing side with Hapoel Haifa. Sakhnin have since risen to the top division and become a symbol for the Arab community in Israel with a squad of mainly Arab-Israeli players, but even they have not had an Arab manager during their time in the premier division. Hasarma also played for seven years at Kiryat Shmona and was a member of the championship-winning side of 2012, the most surprising in Israel's history.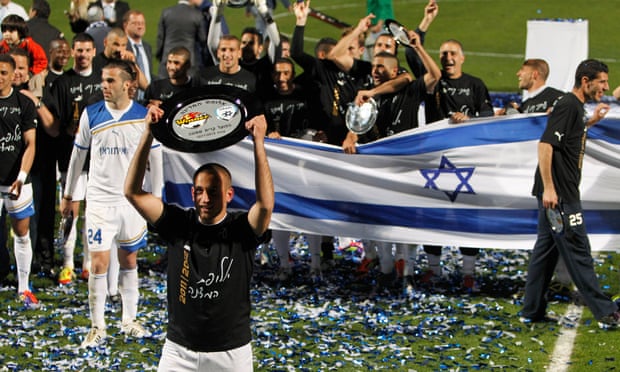 He has been part of the little miracle of Israeli football. While the country is sinking into hate and discrimination, its football – for all its faults and many weaknesses – has become an oasis, a haven of inclusiveness and meritocracy.
All the top league teams, apart from the overtly racist Beitar Jerusalem, have Arab players in their squads and last season 19.8% of the Israeli players in the league were from non-Jewish minorities, a reflection of their 20.3% presence in the population. Arab players have been part of the national team for four decades and Israel Under-21s are finely balanced between Jewish and non-Jewish players.
"The starting point for an Arab player is harder," Hasarma told the website Walla. "In most cases he comes from a place without infrastructure and enjoys them much later. An Arab player had to work much harder than his Jewish friend just to make an impression."
As a manager, Hasarma will attract attention and questions about his identity but he seems to be prepared.
"I'm an Israeli Palestinian or an Arab Israeli who lives here and I feel attached to the state in the same way as other people," he said. "I do pray five times a day but I stay clear from fanaticism. There are lots of fanatics around the world, on all sides, who interpret the Torah or the Qur'an in a wrong way. The situation here is complicated. The Arabs are loyal citizens but they have lots of relatives who live in the West Bank or the Gaza Strip. The Arab states also look at the Arab Israelis as a strange community which lives with the Jews."
Even before Hasarma's first official game, he faced a problem when pro-Palestinian groups called for the cancellation of a pre-season game between Kiryat Shmona and Cardiff City in the Netherlands. To Beitar fans he is an Arab, to others he is an Israeli, a duality reflected in his statement about what should be done with racist fans in Israel. "It is unacceptable and we need to deal with it seriously. The police should have people in the stands and arrest anybody who shouts racist remarks, and then it will finish. When we play abroad we see people against us, so how come it happens among us in the country? We need to uproot it."
The neglected, purpose-built town of Kiryat Shmona (population of 23,000) in the north-eastern tip of Israel, less than two miles from the Lebanese border, is looking forward to next season and the European campaign. For all its natural beauty it was known for the many missile attacks it suffered over the years and chronic unemployment. Thanks to Izzy Sheratzky, the owner who finances the club, there is a successful team there. Sheratzky has a reputation as a capricious owner known to interfere with his manager's work and fell out with the previous three. Hasarma will have to tread carefully, just as he has done for more than 20 years.
http://www.theguardian.com/football/blog/2015/jul/30/salah-hasarma-hapoel-ironi-kiryat-shmona-europa-league